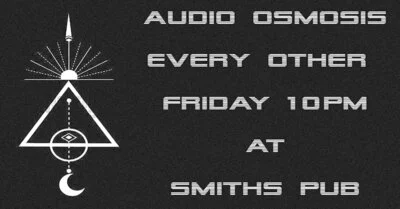 Audio Osmosis
July 8, 2022 @ 10:00 pm
|
Free
CFUV's Audio Osmosis is back after a long hiatus due to COVID 10PM to 2AM alternating Fridays @ Smiths Pub.
Audio Osmosis is known for their selection of new releases that come through CFUV. Prepare to be taken on a trip with some of the best new music out there. Everything from rap to jazz, psych, electronic you name it. If it's groovy, and fits the room and atmosphere at the time I'll play it.
I'll be running my set on Twitch as well so you can catch it live in your own home.
https://www.twitch.tv/jzschuurman
Learn more about Audio Osmosis by liking the facebook page.
Audio Osmosis is live every Sunday 5-6PM on CFUV 101.9FM
http://cfuv.uvic.ca/cms/?shows=audio-osmosis
https://www.facebook.com/AudioOsmosis
Share This Story, Choose Your Platform!