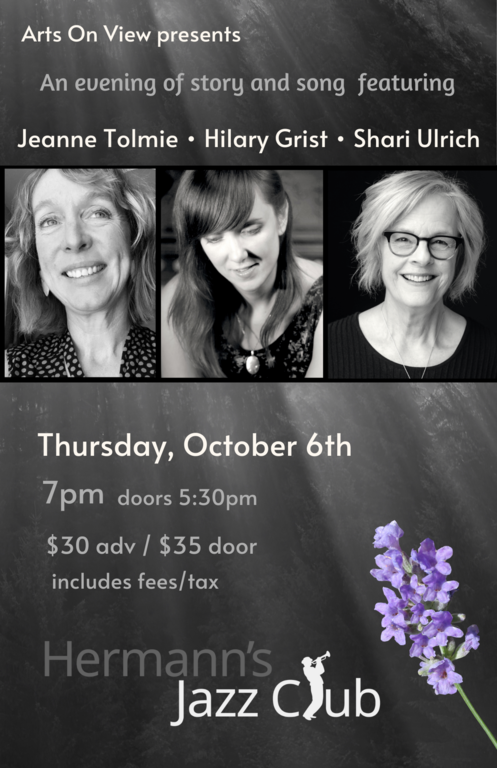 Arts On View presents Jeanne Tolmie, Hilary Grist, Shari Ulrich
October 6 @ 7:00 pm

-

9:30 pm

|

$30 – $35
Shari says – "in the summer of 2022, in response to a new music project with Lynn Miles and Susan Crowe having to cancel their appearance at the renowned Vancouver Island MusicFest, I decided to give the audience the kind of great songwriting and presence they would have expected from the likes of Lynn and Susan by teaming up with two of my all-time favourite writers and people, Jeanne Tolmie and Hilary Grist. Within a matter of a few hours we put together a mainstage set that was not only effortless, but amazed us all at how we fell into perfect harmony in every way. It was a profound experience for us and loved by the audience as well, so of course we wanted to repeat it!"
Victoria's Jeanne Tolmie is a singer songwriter with a great love and knowledge of country and folk music. She is an honest and emotive performer, a master harmonizer, and closet accordionist. Her resumé includes the bands Big Yellow Taxi, Daisy Duke, JT King, Sidecar, and the Golden Country Clan. Her mastery of back up singing earned her back-up vocal work on numerous recording projects for Steve Dawson's Henhouse Recording Studio. Jeanne is also a social worker in the field of palliative care.
Hilary Grist was composing music at the piano in pre-school. Later years of piano lessons and singing with the high school choir propelled her to Vancouver, where she studied jazz at Capilano University while deepening her pool of musical influences and honing her songwriting skills. Grist's songs can evoke emotion with ease, and their cinematic conductivity translates as well to the big and small screens as it does to her listeners' real-life narratives. Her music has enhanced dramatic and romantic sequences in a number of television programs,
Share This Story, Choose Your Platform!