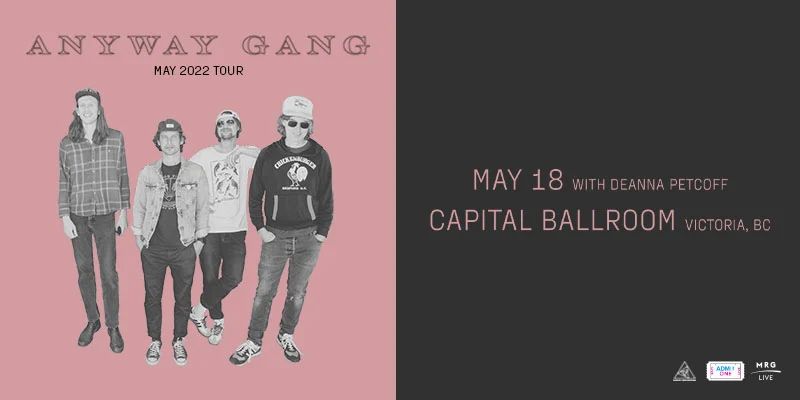 Anyway Gang
May 18, 2022 @ 9:00 pm
|
$34.5
A few summers ago, some friends from four of Canada's most notable bands – Dave Monks (Tokyo Police Club), Sam Roberts (Sam Roberts Band), Menno Versteeg (Hollerado), and Chris Murphy (Sloan) – got together to write some songs. They mostly made dad jokes but also jammed on a bunch of songs they all had lying around. After bitter and lengthy negotiations, a 3 chord rule was implemented. This made sense for Sam and Dave's songs, but required Chris to drop between four to six chords from his and forced Menno to add two.
They recorded a bunch of stuff in a few days and over the year added some ideas here and there and all of a sudden they realized they kinda had an album so they said let's name ourselves the first thing they thought of and release it. Anyway, they ended up being called Anyway Gang. Their first single, "Big Night", went to #1 at Alternative Radio. They decided to celebrate by playing exactly 1 show, at the Horseshoe Tavern in Toronto. The show sold out in a matter of minutes, so they decided to quit while they were ahead and not do any more shows.
Well it's now 2022, and the band is back with a full length record called "Still Anyways". This time they even added a 4th chord to some of the songs, and worked in a real studio with producers Gus Van Go (Metric, Arkells, etc.) and Nixon Boyd (Hollerado, Dizzy,). To celebrate they will be doing a Canadian tour in May, and because they now have more than 8 songs to choose from, they won't have to play Big Night twice like they did at the first show. (They might anyway, but they don't have to)
Share This Story, Choose Your Platform!