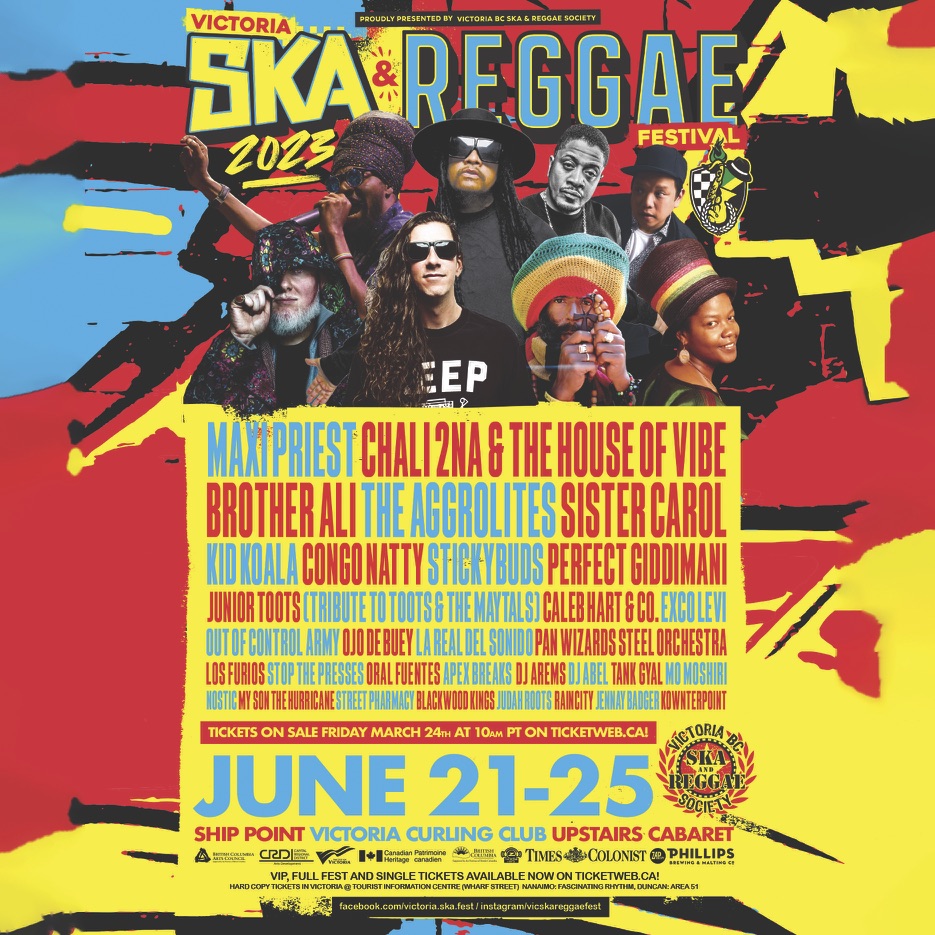 Victoria's 24th Annual Ska & Reggae Festival
June 23
|
Free – $225
Victoria Ska & Reggae Festival is proud to once again Welcome the World to the heart of downtown Victoria for the 24th Annual Victoria Ska & Reggae Festival. Running June 21 – 25, 2023, Victoria's 24th Annual Ska & Reggae Festival is set to bring another lineup packed to the brim with international and national acts that you're not likely to see anywhere else.
Headlining this years festival, taking centre stage for the first Victoria appearance of his storied career, is international reggae icon MAXI PRIEST. For nearly four decades, Maxi Priest has been delighting reggae lovers around the world with his effervescent stage presence and ethereally sweet voice and we are proud to welcome this legend to our stage for the first time. This year we bring some focus on one of reggae's closest and most recognizable musical cousins: hip-hop. One of hip-hop's most recognizable and versatile MCs, CHALI 2NA returns to the Victoria Ska & Reggae Festival for the first time since 2018, when he delighted our audiences with his appearance with Ozomatli. This year Chali will be joined by his long-time band THE HOUSE OF VIBE for what's sure to be an unforgettable celebration of hip-hop culture and grooves. One of the most consistent, thoughtful and powerful MCs in rap, BROTHER ALI will be making his first appearance at the Victoria Ska & Reggae as he brings his conscious lyrics and banging boom-bap beats to the city. And would the top of the card be without some rowdy ska-flavoured energy?! Our longtime friends and among the festivals most beloved alumni, California ska/reggae ambassadors, THE AGGROLITES return to take the main stage for the first time in nearly a decade!
One of Canada's most long-beloved DJs KID KOALA returns to Victoria for the first time in 8 years for what is sure to be one of the funnest sets of the summer. The direct bonds between Jamaican-rooted music and modern big-bass electronic music are as strong as ever. Proof lies with UK jungle legend CONGO NATTY who comes to Victoria for the first time. He'll be joined by our longtime ally STICKYBUDS who returns to the festival for a very special Friday night party that guarantees to be one of the sweatiest nights of this years festival. The heart of the festival beats with Jamaica, with reggae music, and this year we pay tribute to the generational impact of the music with some of reggae's shining stars. Legendary reggae vocalist SISTER CAROL comes to Victoria for the first time, as does current International reggae star PERFECT GIDDIMANI. We're also excited to welcome JUNIOR TOOTS, son of reggae icon Toots Hibbert – an incredibly talented singer and performer in his own right, Junior Toots will be paying tribute to the music and legacy of his late father during our Reggae Showcase on our Inner Harbour main stage. The strong and ever-shining Canadian reggae scene will be represented by the likes of festival favourites Jamaican-born EXCO LEVI and Trinidad & Tobego import and his friends, CALEB HART & CO.
As always Victoria Ska & Reggae Festival is full of international sonic delights that you're not going to see on other major festival lineups. Costa Rica's OJO DE BUEY and Colombia's LA REAL DEL SONIDO both exemplify the beautiful diversity of their respective home countries, while Mexico's powerful ska outfit OUT OF CONTROL ARMY returns to the festival for the first time in six years. New York's super-hot ska outfit STOP THE PRESSES comes to Victoria for the first time. These bands will be sharing the bill with some of the most gifted bands our west coast music community has to offer, like MO MOSHIRI & NOSTIC, RAINCTY, BLACKWOOD KINGS, JENNAY BADGER…and so much more. In addition to all this incredible music, we will once again be offering various FREE public workshops with festival artists. Festival attendees will once again be treated to incredible art courtesy of Rocksteady Collective and VIP guests will enjoy culinary delights inspired by artists playing at the festival.
Share This Story, Choose Your Platform!